PERIODONTOLOGY
Smile Aesthetics Improvement
For an esthetic smile a harmonious relation between teeth and gums is of outmost importance. When dentists discuss about smile appearance, they typically break it down to white esthetics (tooth related) and pink esthetics (gingival tissue/gums related). Their optimization as well as their interaction is critical for final smile esthetics.
A patient for instance may have teeth that look nice in terms of color, size and shape but their gums may be enlarged, their contours uneven, their texture spongy or their exposure during full smile much greater than normal (gummy smile). In all of the above situations the overall smile esthetics are negatively affected.
In order to restore proper pink esthetics (gum esthetics), a careful smile analysis is necessary. The expected outcome is then presented to the patient on a 3D model of his mouth by means of a diagnostic wax up as well as directly in his mouth through a mock-up. This offers the patient the opportunity to visualize the final outcome and share his thoughts before even starting any procedure.
Once final adjustments have been made on the model, a template is fabricated. This template is used as a guide for a minimally invasive periodontal plastic surgery procedure used to correct all gingival disharmonies (gum disharmonies).  This procedure, which may slightly differ from case to case depending on the cause of the disharmonies, is performed under local anesthesia in a single session. As most contemporary dental procedures this is a fully painless procedure; its results are immediately visible to the patient and healing is smooth without the need for antibiotics.
Case studies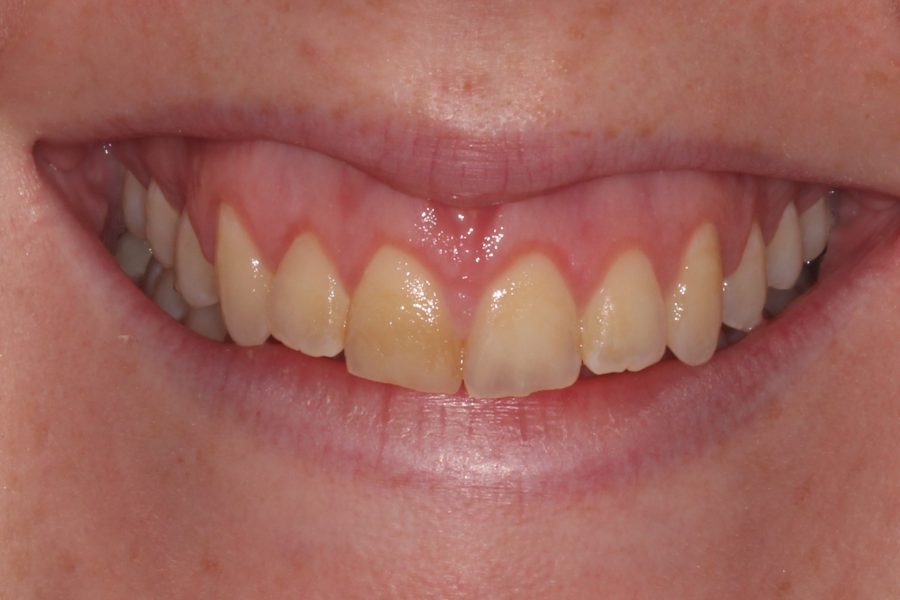 This young patient expressed her desire to improve her smile esthetics. More specifically she strongly…